Toys For Tots History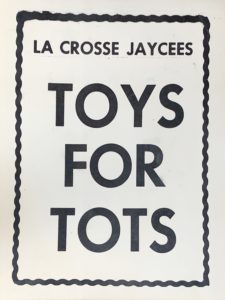 Back in 1934, a La Crosse resident named Fred Kramer, was asked to be on a committee to distribute food baskets.  He also wanted to make sure area children had presents to open on Christmas morning.  So Fred convinced the committee to allocate $300 to purchase toys to include with the food baskets.  He also partnered with the Majestic Theater.  They put on a matinee where the cost was a toy to get in.  That year, the La Crosse Fire Department also agreed to refurbish used toys and to allow people to drop off toys at their stations.  That first year, Fred collected enough toys to fill over 1300 baskets for local children.
The following year, in 1935, the La Crosse Jaycees Chapter was incorporated.  The Jaycees continued what Fred started and named it Toys For Tots.  Since that time, Toys For Tots has become a nationwide effort being sponsored by various community groups and organizations.  The JCI La Crosse Jaycees have exclusive use of the Toys For Tots name in the La Crosse area.
La Crosse Jaycees collecting toys (circa 1940's)
Notice the truck is from "Charlie's Super Station 3rd & Pearl"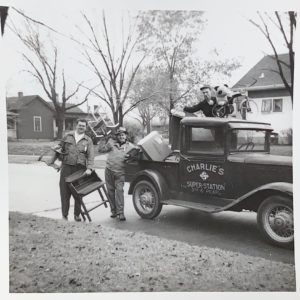 La Crosse Jaycees Toys For Tots article (1946)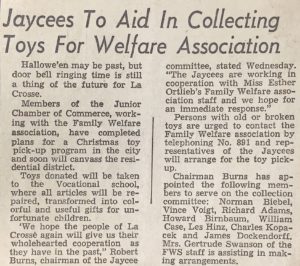 La Crosse Jaycees collecting barrels (circa 1960's)