2022 Toys For Tots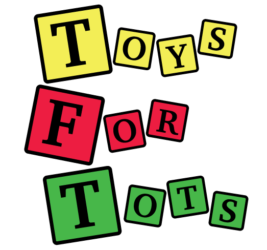 Creating holiday cheer for over 1,200 children each year by connecting with the community to collect toys to be given to families in need.
Registration for 2022 has Concluded
Registration for 2022 is CLOSED.  All emails and calls reguarding new registrations will not be answered or responded to. Give Away Day is December 10th - 8:30AM to 12:00PM.
We will be emailing all recipients soon with your pickup window.
JCI La Crosse Toys For Tots helps provide toys to families in La Crosse County/ La Crescent, MN that are in need. Please remember when signing up that we only provide toys.
We do NOT provide clothing, food, gift cards, video games systems, computers, iPhones, or iPads.
**Please NOTE - The JCI La Crosse Jaycees Toys For Tots program is only for families residing in La Crosse County or in La Crescent, MN. If you live outside of these areas, please refer to your local county for assistance.**
Volunteering
Toys for Tots would never happen without our many volunteers. If you would like to volunteer, click here.
Donating / Barrel Locations

You can drop off a new, unwrapped toy at any of these locations
| | |
| --- | --- |
| 2Brothers | Matt's Auto Repair |
| Ace Hardware - West Salem | Mayo Clinic Health System |
| Anytime Fitness - La Cresent | Menards - La Crosse |
| Anytime Fitness - Onalaska | Menards - Onalaska |
| Anytime Fitness - West Salem | Merchants Bank |
| Applause Dance Academy | Michaels Energy |
| Auto Value | Milwaukee Burger Company |
| Badger | New Castle Title |
| Bauer's Market & Garden Center | Northstar Early Learning Center |
| Bennett O'Riley's Pub | Optical Fashions - La Crosse |
| Bio Life Plasma Services | Organic Valley Chaseburg Creamery |
| Children's Treehouse | Organic Valley Conv & Labeling Facility - Cashton |
| Cindy Gerke Realty - Onalaska | Organic Valley Distribution Center - Cashton |
| Cindy Gerke Realty - La Crosse | Organic Valley Headquarters - La Farge |
| Citizens State Bank - La Crosse | Pearl Street Brewery |
| Citizens State Bank - Onalaska | Pischke Motors |
| Clason Buick GMC | Pogy's Catering |
| Coulee Bank - La Crosse | Red Balloon - La Crosse |
| Coulee Bank - Onalaska | Red Balloon - Onalaska |
| Coulee Bank - Holmen | River City Chiropractic |
| Crown Cork Beverage Packaging | River States Truck and Trailer |
| Deaf Ear Records | River Valley Chiropractic Center, SC |
| Don's Towing | Rod's Ride On Powersports |
| Elite Nutrition | RSM - US LLP |
| Firefighters Credit Union - La Crosse | Savvy Home Consignments |
| Firefighters Credit Union - Onalaska | Schneider Heating |
| Firefighters Credit Union - Holmen | Sitara Salon and Spa |
| Gerrard-Hoeschler Realtors, Inc. | Spectrum Insurance |
| Good Shepherd Evangelical Lutheran Church | State Bank Financial |
| Great Lakes Cheese Company | The Insurance Center |
| Gundersen Hotel and Suites | Thompson Animal Medical Center |
| Heavenly Crossroads Salon & Spa - Onalaska | Trane Technologies |
| Heavenly Crossroads Salon & Spa - Holmen | US Geological Survey |
| Hydrite Chemical Co. | Verve Credit Union - South La Crosse |
| IC System | Verve Credit Union - Holmen |
| Ironworks Driftless Academy | Verve Credit Union - Downtown La Crosse |
| J.F. Brennan Company, Inc. | Verve Credit Union - Onalaska |
| Johnson Block and Co. | Walgreens - Rose St |
| La Crosse Country Club | Walgreens - St Rd 16 |
| La Crosse Truck Center - Ford | Weiser Brothers |
| La Crosse Truck Center - Mack | WKBT TV |
| Land Home Financial Services | |
| Landmark Lofts | |
| Logistics Health, Inc/ Optum Serve | |